Browsing the Internet, it happens more and more often to read articles that talk about Antivirus vs anti-malware , and other computer threats capable of knocking out any electronic device: not only computers but also smartphones and tablets. A little alarmed by this, not being a great tech expert, you're trying to get a basic understanding of digital security and you ended up here, on this post of mine. Going into more detail, you're trying to figure out which software to use to protect your devices, but you still haven't fully understood what the differences are between Antivirus vs anti-malware: two terms that often seem to you to be used synonymously but that you haven't yet well understood. Don't worry: if this is the case, know that I'm here to help you and clarify your ideas about it.
In the next few lines, in fact, I will briefly explain what antiviruses are and anti-malware are, highlighting the differences between these two terminologies, after which I will offer you some of the best solutions you can use to protect your devices and stay away from all the main computer threats that you can run into while browsing online (and not only). Whether you have a Windows PC, a Mac, an Android device, or an iPhone/iPad, fear not: you're sure to find something that's right for you. Happy reading and good luck with everything!
Anti-malware antivirus: difference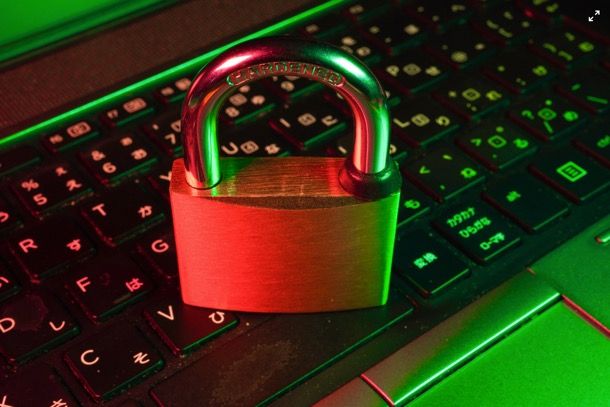 The difference between antivirus and anti-malware is much simpler than you imagine.
To put it simply, malware is the term used to generally define all those software that behave maliciously to alter the correct functioning of the system to be attacked (therefore our PCs, smartphones, and tablets).
Based on their purpose and behavior, malware is classified in various ways. Viruses, therefore, are just one of the many types of malware that can be encountered: specifically, they are those that — just like viruses in the real world — is designed to replicate and spread rapidly in order to make as many victims as possible.
In the category of computer viruses we find yet other classifications, such as trojans (malware that disguises itself as useful and harmless programs and, once installed, spy on the user's activities and/or performs other harmful activities) and worms (malware that spreads automatically via local network or the Internet without binding to other executables), but now let's not complicate the matter too much.
In light of what has just been said, the difference between antivirus and anti-malware would be in the type of threats that this software is able to counter, but in reality, we can say that most security software is able to protect against many types different types of malware (e.g. spyware, adware, etc.), including viruses. The use of the term antivirus instead of anti-malware is mostly due to marketing issues: especially in past years, the term "virus" was much better known than "malware" and therefore Antivirus vs anti-malware was chosen to promote software of protection.
Antivirus anti-malware gratis
Once the differences between anti-malware and antivirus have been clarified, the time has come to see which software to use to protect your devices from malicious software, whether they are viruses or other types of malware. Contrary to what one might think, there are very valid ones even in the free sphere.
Anti-malware Windows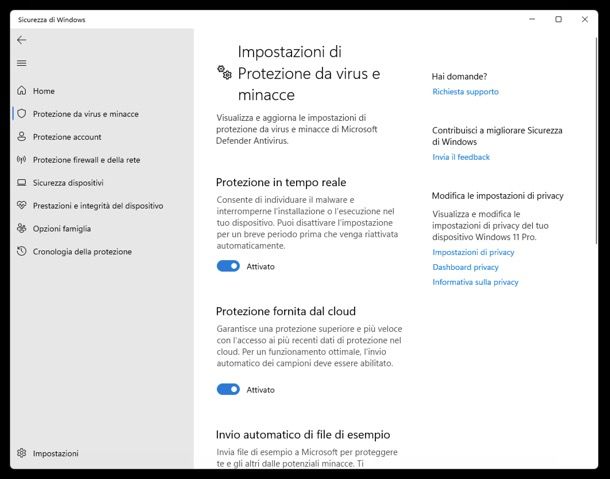 If you use Windows 10 or Windows 11, you should know that the operating system already includes "standard" excellent protection software capable of countering all the main types of malware, including viruses, at no cost. Its name is Windows Security and it should be on by default.
If you want to verify that Windows Security is active on your PC (clearly there must not be another Antivirus vs anti-malware software active in real-time, or they would conflict), search for Windows Security in Start and press on the relevant result.
In the window that opens, go to Virus and threat protection, then to the item Manage settings related to Virus and threat protection settings and, if necessary, activate all the available levers.
At this point, your system is protected. If you want to start an "on demand" scan of the main areas of the system, click on Quick scan; otherwise, to perform more advanced scans, press on Analysis options and then on the type of scan you want to achieve (e.g. complete or customized ).
Windows Security is more than a sufficient solution for most home users and also in many professional fields (it always appears very well in the antivirus rankings ), but if you are looking for alternatives you can find many valid ones in my tutorial on the best antiviruses.
 Anti-malware Mac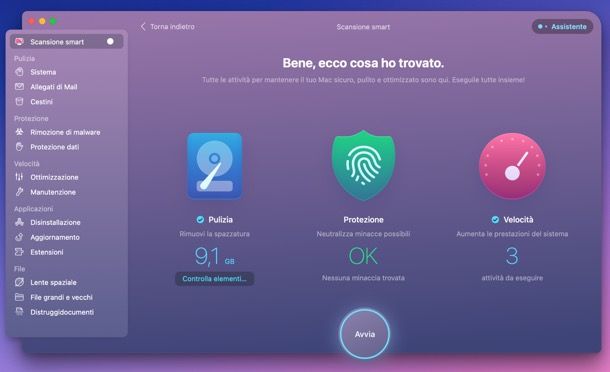 Do Macs Need Anti-Malware? There is no simple answer to this question. To summarize the issue as best as possible, we can say that macOS is not free from the risk of malware, but that its lower diffusion compared to Windows makes it a less attractive target for cybercriminals. The use of anti-malware that check the operating system in real-time, therefore, is not "essential" as on Windows PCs, but it is still advisable not to let your guard down and make constant checks on the status of the system.
One of the best solutions to do this is definitely CleanMyMac X: well-known all-in-one software for Mac protection, maintenance, and optimization. Produced by MacPaw, CleanMyMac X allows you to eliminate Mac malware and check your system in real-time to avoid being a victim in the future, free up disk space by deleting unnecessary files, cache and online browsing data, and speed up macOS by automatically optimizing some macOS settings. All this takes place through a very accurate and simple-to-use interface, completely translated into Italian.
You can download and use CleanMyMac X for free to free up to 500MB of disk space. If you want to remove this limit and access all the program's functions, you can purchase it with prices starting at €29.95; alternatively, you should know that MacPaw also offers the Setapp service, through which it is possible to subscribe to a monthly ($9.99) or annual ($8.99/month with annual billing) subscription and have access to a wide range of applications payment for Mac without purchasing individual licenses. Among the applications included, there is also CleanMyMac X. You can try the service for free for 7 days. Furthermore, with a small addition to the fee, it is possible to access numerous paid apps also for iPhones and iPods. More info here.
Now let's move on to the practical side of the matter. To download CleanMyMac X for free, connect to the program's official website and click on the download button. When the download is complete, open the dmg file obtained and drag the CleanMyMac X icon to your Mac's Applications folder.
At this point open CleanMyMac X and confirm; therefore grant the application all the permissions required to function (just follow the instructions on the screen by activating the various levers in System Settings ) and accept the terms on privacy and Terms of service.
Once the initial tutorial is complete, you can start using the software to make your Mac safer and more performing. Using the Smart Scan section, you can perform a general system check, obtaining a complete report on the cleaning, protection, and speed of your Mac. By clicking on these entries at the end of the scan, you will be able to view the list of results (the amount of space that can be freed up on the disk, the potential security threats, and the settings that can be changed to speed up the Mac) and choose how to proceed.
As far as malware protection is concerned, I advise you to do an initial analysis of the system by selecting the Malware removal item from the side menu and pressing the Scan button. After the check is complete, if any threats are revealed, CleanMyMac X will delete them.
You can then decide whether or not to activate the real-time checks by going to the Clean MyMac X> Settings menu (top left), selecting the Protection tab from the window that opens, and operating on the options to activate malware monitoring, search for threats in the background and scan dmg disk images.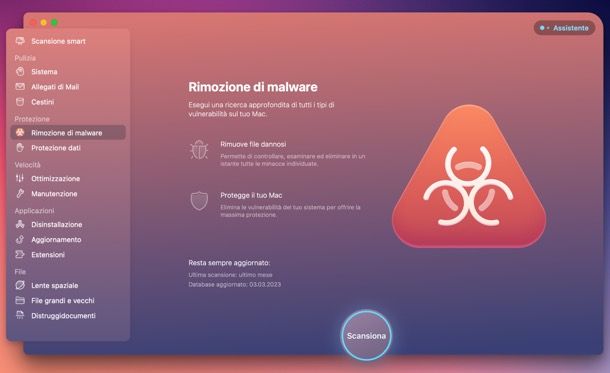 System security isn't the only thing that CleanMyMac X checks in real-time: thanks to the CleanMyMac X quick access menu in the menu bar, you can in fact check in real time the status of the disk, RAM, battery, CPU, and, in fact, operating system protection with useful advice on how to optimize your Mac and quick access buttons to the main functions of the software. Also noteworthy is the support for managing the space on Dropbox .
For the rest, you can find everything in the application's side menu: in Cleaning there are the functions for deleting superfluous files, Mail attachments, and files in the Recycle Bin; in Protection, there is the already mentioned anti-malware function, plus the one to delete the data of online navigation and chats; in Speed, there are the functions that allow you to change the macOS settings automatically to speed up the system, check the programs set to start automatically and those in the background; in Applications, you can completely remove applications, update them in one click and manage installed extensions, in filesfinally, there are the tools to find the largest files, the largest and oldest ones and delete files securely.
Antivirus anti-malware Android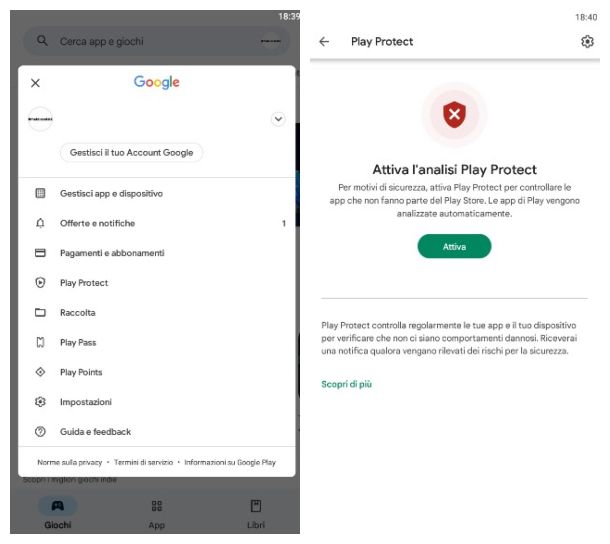 In the mobile sector, Android is certainly the operating system that suffers the most from the problem related to malware: this is due to its enormous diffusion (which attracts the bad guys) and its openness, so it is possible to easily install apps from unauthorized sources.
Android devices equipped with Google services include "standard"  Play Protect which analyzes suspicious applications before they can be downloaded: you can verify its operation by opening the Play Store, pressing on your profile picture, and then on the  Play Protect item. From here you can choose whether to scan apps with Play Protect.
For additional protection, however, it is possible to install third-party anti-malware capable of analyzing the installed apps and monitoring the system status in real-time; they often also include services for finding your smartphone in the event of theft, online browsing protection systems, and other useful functions. However, care must be taken that they do not slow down the device or consume too much battery. If you want an overview of the best Antivirus vs anti-malware  for Android, see my post on the subject.
Antivirus anti-malware iPhone/iPad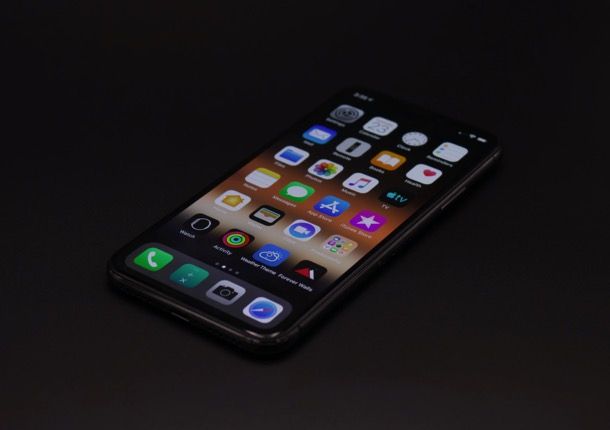 The iPhone and iPad operating systems are much more "closed" than Android (and also less widespread); the installation of applications from sources external to the App Store is not permitted, therefore the risk of running into malware on these devices is practically absent.
The only precaution to have is to avoid practices such as jailbreak (which removes many operating system protections and allows the installation of apps from sources other than the official ones). For the rest, there is no real anti-malware for iOS / iPadOS, even if many anti-malware manufacturers have created apps that protect online browsing, allow you to locate devices remotely, and offer other functions related to privacy. To find out more, I invite you to read my tutorial on how to remove viruses from iPhones.
FAQS
What is the difference between antivirus and anti-malware?
Antivirus software typically focuses on detecting and removing viruses, while anti-malware software is designed to detect and remove a wider range of malicious software, including viruses, spyware, adware, and other forms of malware.
Do I need both antivirus and anti-malware software?
It is generally recommended to have both antivirus and anti-malware software installed on your device to provide comprehensive protection against a wide range of threats.
Can antivirus software detect all types of malware?
Antivirus software is designed to detect and remove viruses, but it may not be able to detect all types of malware. That's why it's important to have both antivirus and anti-malware software installed on your device.
How do I choose the right antivirus or anti-malware software?
When selecting antivirus or anti-malware software, it's important to consider factors such as the level of protection offered, the software's ease of use, and the cost. You should also look for software that is regularly updated to ensure it can detect and remove the latest threats.
Can antivirus or anti-malware software slow down my device?
While some antivirus and anti-malware software can impact system performance, most modern software is designed to run efficiently and without causing significant slowdowns. It's important to choose software that is optimized for your device's hardware specifications.
How often should I run a virus scan?
It's recommended to run a virus scan at least once a week, or more frequently if you frequently download files from the internet or use external storage devices like USB drives.
Can antivirus or anti-malware software protect me from phishing attacks?
While some antivirus and anti-malware software includes phishing protection, it's important to also use safe browsing practices and be cautious when clicking on links or downloading attachments from unknown sources.